Where all inclusive prices come from, and why Canadians waste a lot of time searching
Around this time of year when the temperature drops I often see people asking a similar question, 'What website(s) should I visit to get a good deal on an all inclusive package?'.
And with good intentions, I will often see people reply with something along the lines of 'Check out X site, Y site, and Z site. Those are the best!'
But here's the thing. X site, Y site, and Z site will have identical all inclusive package prices. In fact, every Canadian based travel site has identical all inclusive prices.
Why?
Well, this might be easiest to explain with a picture, which should theoretically save me a thousand words.
Here is a diagram that shows where all inclusive package prices come from in Canada, and how they make their way to the consumer...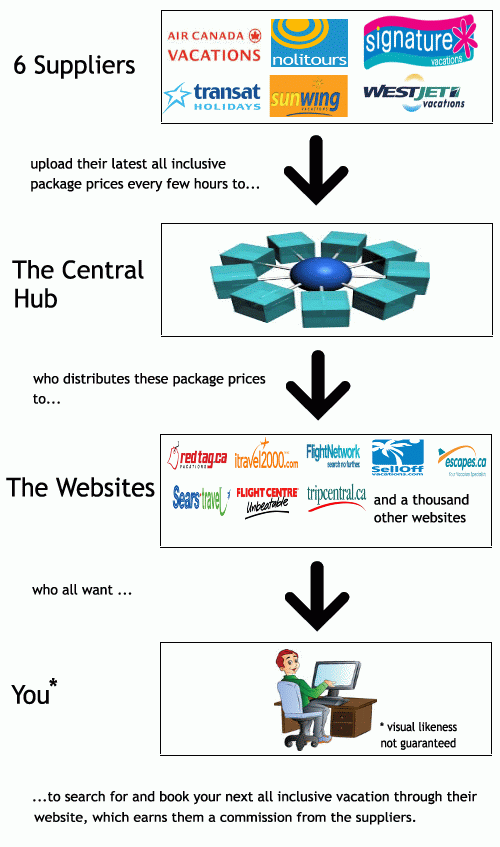 How time is wasted
The mistake people most often make is thinking that 'The Websites' have control over the prices. They do not. It is the '6 Suppliers' who dictate the prices. 'The Websites' cannot and do not compete against each other on price.
For that reason, the all inclusive package prices displayed on each of 'The Websites' are identical to each other (unless a site is a little behind on getting the latest price updates from 'The Central Hub').
And since The Websites are all displaying identical prices, people often waste a lot of time searching multiple websites.
Adding to the confusion for Canadian consumers is the fact that The Websites all dearly want you to search for and book your next all inclusive vacation through them, to earn a commission from one of the 6 Suppliers.
Their marketing goal is to try and convince you that you will get the best deal exclusively through their website, which is clearly at odds with the technical fact that they are displaying the same prices from the same 6 Suppliers as every other site.
Hopefully this helps a bit in explaining where all inclusive prices come from. I've tried to keep it simple and focus on just the Canadian Tour Operators as the suppliers. There are technically other sources of package prices, such as when sites automatically combine flights from the major airlines with all inclusive hotel rates, but for the most part, when Canadians book an all inclusive package it's from one of these 6 Canadian Tour Operators.
And you may have noticed that I have my own all inclusive package search tool right here on YYZ Deals, called the Ultimate All Inclusive Deal Finder.
Just like the other websites out there, it's using the same price data, although I have tried to do some interesting things with the data, such as merging it with other large data sets, like TripAdvisor review data, to help analyze the millions of prices and figure out which specific deals are an extraordinary value at the moment (see 'Value Scores' after searching).
Hit Like if you like this article! Click Share to show your friends on Facebook.
People That Liked This Page Also Liked:
| | |
| --- | --- |
| | You may also want to check out pages that were tagged with: |
| | |
Be The First To Know About The Next Amazing Deal!
Head to the
YYZ Deals Alerts Page
where you can choose to be notified by e-mail, Facebook, Twitter, or RSS Feed the moment an amazing travel deal from Toronto is found.
Setting up alerts allows you to be one of the first to see a new deal, before it sells out.
And don't worry, alerts are only sent when it's truly an amazing deal.
Like Our Site? Follow Us!
Comments from Facebookers
Comments from Everyone Else