Tagged Pages Archive | The Middle East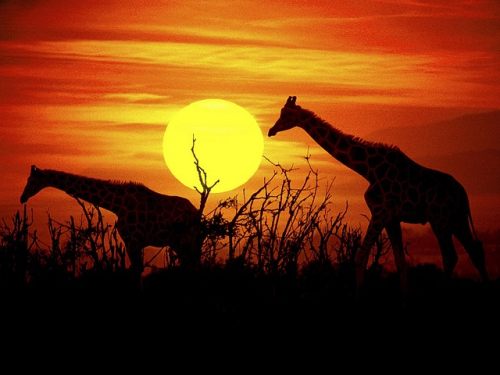 There's a possible mistake fare showing in some booking systems from New York (JFK) to Nairobi, Kenya for the ridiculous price of $392 (Canadian) roundtrip including taxes on Etihad Airways.
Date combinations that have been found to show this price so far are....
Departure:
Nov 23
Nov 24
Nov 25
Return:
Nov 30
Dec 02, 07, 08, 09, 10, 11, 12, 13, 14, 15
(more dates will be added if they are discovered)
With such limited dates, this one will likely disappear very quickly.
How to book...
1. Start with this search on Google Flights...
https://www.google.ca/flights/?hc_location=ufi#search;f=JFK,EWR,LGA;t=NBO;d=2015-11-25;r=2015-12-09;sel=JFKAUH0EY100-AUHNBO2EY641,NBOAUH0EY642-AUHJFK1EY101;a=EY,9W
2. Click on the little bar graph icon below the return date
3. Click on November 25
4. Choose your return date
5. Continue with Google Flights, until you get to the booking buttons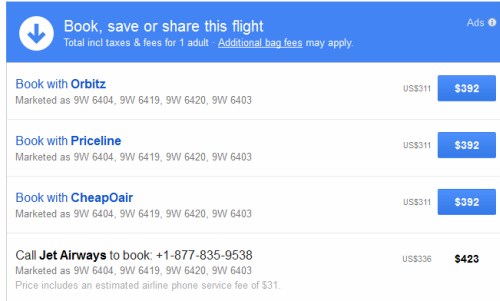 6. Click one of the booking buttons to be taken to a third party booking site to complete the booking.
Of the booking partners listed, I would recommend clicking through to Priceline. In the past, they have been one of the best at honoring fares, even when they turn out to be mistakes.
No guarantees of course, but mistake fares originating from the U.S. are almost always honored these days, thanks to a law that requires airlines to honor them.
screenshot from Priceline.com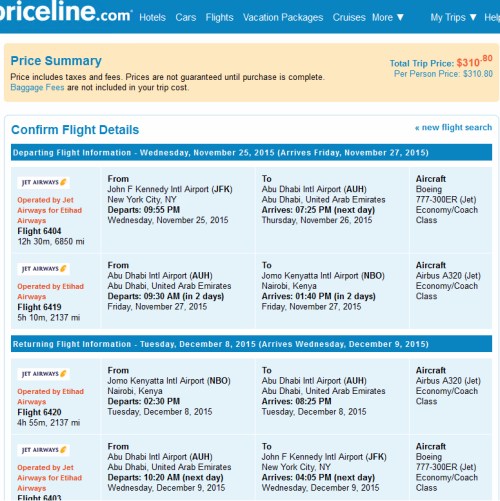 The price on Priceline.com is in $USD. It will work out to $392 Canadian when booked.
Each direction contains a lengthy stopover in Abu Dhabi.
(more details will be posted here as they are discovered)
@3:07 PM EST - The prices seem to all be returning in the low $500s now.
@3:33 PM EST - As of 5 seconds ago, Nov 26 to Dec 10 is verifying at $311 USD, if you search the U.S. version of Kayak, and click through to the U.S. version of CheapoAir. link: https://www.kayak.com/flights/NYC-NBO/2015-11-26/2015-12-10
@5:32 PM EST - From YYZ Deals Group Member: "Got Nairobi for next feb for 370 with orbitz" (Assuming that was $USD, or approximately $430 CAD, no word on specific dates yet)
Live discussion of this deal can be found in the YYZ Deals Facebook Group. Special thanks to Rishi for sharing this great find!
Hit Like if you like this deal! Click Share to show your friends on Facebook.